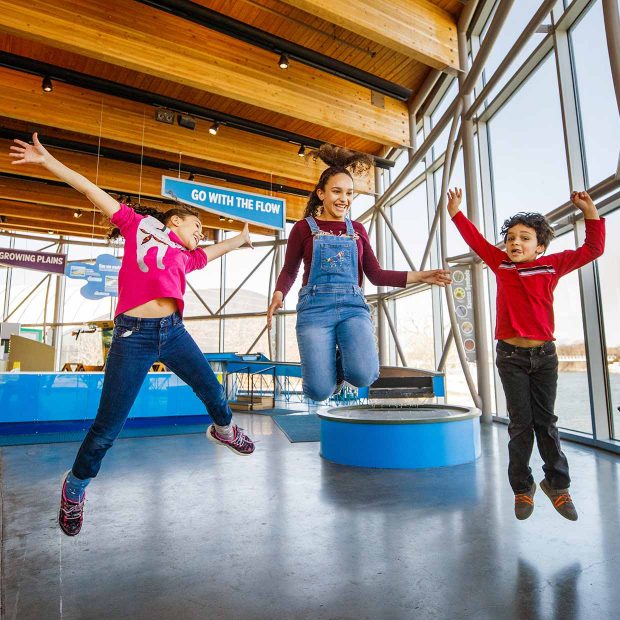 Hands-on Science Fun for the Whole Family
Many one-of-a-kind experiences await you at Exploration Place, featuring hands-on science fun for the entire family! Our various permanent exhibits will allow you to rivet an airplane wing, chuck buffalo chips, marvel at a miniaturized 1950s Kansas, rule a medieval castle, get comfortable in a giant meadowlark nest and more! We are also pleased to host various special exhibits throughout the year, so plan your visit as soon as possible.
Hours: Open Today 10 am to 8 pm
Monday-Wednesday: 10 am to 5 pm Thursday: 10 am to 8 pm Friday-Sunday: 10 am to 5 pm
Visitor Reviews
"This place is still such a great place to bring kids! Came here years ago, and it's still as wonderful as I remember. My girls love the castle, and my little boy could have spent longer than we did (all afternoon) in the aero center. In the time we were here, I saw staff go through at least three times and sanitize everything."

Sarah Peterson
"Love Exploration Place. The kids love to come and play; they never get tired of it. New exhibits are added, making it interesting every time we go."

Victoria Parker
"I absolutely love this place. It's the perfect setting for curious minds. I highly recommend people of all ages check out the Exploration Place. The views are beautiful, the exhibits are awesome, and the staff is super friendly."

Sheena Youngers
"Great place for young children to learn about our natural world with interactive resources. Think of documentary films (such as one presented by Robert Redford), a real tornado-making machine, traveling exhibits and other exciting surprises! If you are a tourist traveling with your family to Wichita or just live in the area, check this place out."

Thomas Wilson
"We had a great time with our little people! Would love to go back just for the temporary exhibits and spend more time reading! The survival exhibit was super informative! Our crew loved The Lava Challenge too!"

Lori Kerwood
Admission
Permanent exhibits and special exhibits are free for members and included with All-Access Passes.