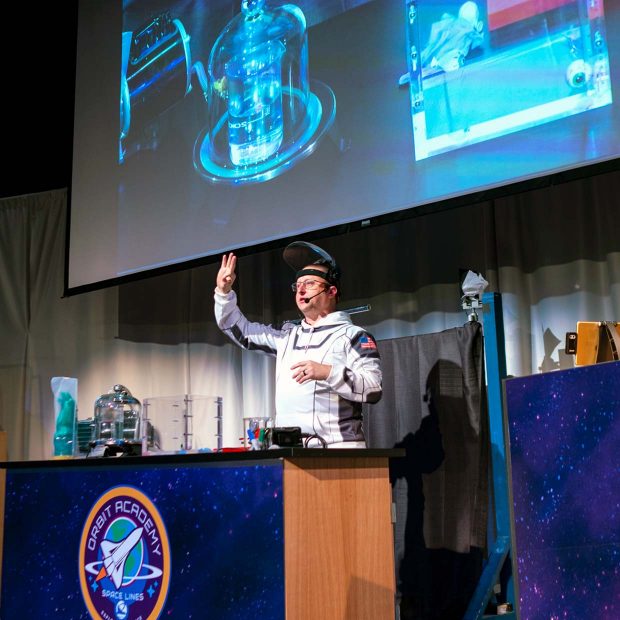 Live Science Shows

Catch a Live Science Show During Your Visit

With exciting Live Science Shows performed multiple times daily, it's easy to plan on attending a show during your visit to Exploration Place. Each interactive show is conveniently performed in the Live Science Theater, which is also called the Kemper Theater. The show is between 20 – 30 minutes and appropriate for all ages.

Live Science Pop-Ups are held in the KEVA gallery and do not require a ticketed entrance.

Find out more about each of our shows below!
| The Magic of Science Showtimes: | |
| --- | --- |
| Sunday | 11:15 am, 1:15 pm, 2:15 pm and 4:15 pm |
| Monday | 11:15 am, 1:15 pm, 2:15 pm and 4:15 pm |
| Tuesday | 11:15 am, 1:15 pm, 2:15 pm and 4:15 pm |
| Wednesday | 11:15 am, 1:15 pm, 2:15 pm and 4:15 pm |
| Thursday | 11:15 am, 1:15 pm, 2:15 pm, 4:15 pm and 5:15 pm |
| Friday | 11:15 am, 1:15 pm, 2:15 pm and 4:15 pm |
| Saturday | 11:15 am, 1:15 pm, 2:15 pm and 4:15 pm |
Visitor Reviews
"Such a fun place to go. The workers are always nice and very knowledgeable! They have amazing theater shows and a really fun little kid area for my son to run around and explore. One of the exhibits they have changes often, so you get to see all new cool things, which is great because we have a membership and go every other day! This place never gets old. Definitely would recommend!"

Theresa Rupp
"Exploration Place is truly a gift to the Wichita area! If you need something to keep your kids busy for an entire day, you'll definitely appreciate Exploration Place. It's the same price as a matinee at any local theater but way more likely to educate them, entertains them way longer than two hours and can potentially help them burn enough energy that they might actually sleep that night! Definitely highly recommend!"

David Montgomery